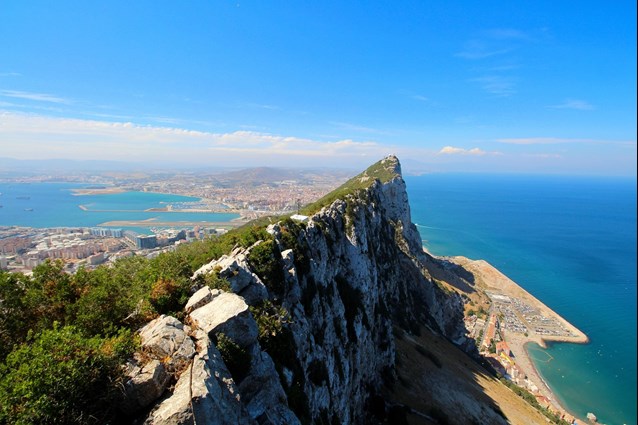 Situated at the southern tip of the Iberian Peninsula, Gibraltar is recognised historically as the southernmost point of Europe.
It's also strategically positioned at the western end of the Mediterranean, forming one of the ancient Pillars of Hercules.
Nearby countries are Spain and Morocco.
 
Climate 
 
The climate of Gibraltar is considerably affected by local topography and the proximity of the Mediterranean Sea and the Atlantic Ocean.
It's a place of meteorological extremes.
Summer in Gibraltar is dry and warm with lots of sunshine hours.
On the other hand, the weather in winter is mild, wet, and cool. 
Transportation 
Gibraltar is a small country (about 6 square kilometers) and you can go by foot if you have the time and energy.
You can also go around by bus or taxi. There are five bus routes ( 2, 3, 4, 9, and 10) and buses run to most areas of the territory apart from the Upper Rock, which is a nature reserve.  
The Gibraltar Taxi drivers provide tours and the price set by the Gibraltar Taxi Association is £8 pounds per person plus an extra £8 for entering into the Upper Rock attractions - with a minimum of 4 persons.
You can hire a bike, or rent a car but for the best experience, you can go by cable car. 
The cable car takes you to a spectacular lookout point at the top of The Rock and its amazing attraction.
The cable car costs £8 euros round trip for adults and £4.50 round trip for children over 7 and it's free for children under 6. Again, there will be an extra  £8 charge if you want to enter attractions on the Upper Rock.
Read more about Gibraltar transportation here 
Cost of living 
 
It has been reported that the cost of living in Gibraltar is 18% cheaper than in Chicago, Illinois, and 13% more expensive than in Barcelona. 
The average rent for an apartment in Gibraltar is $858. The cost of rent varies depending on several factors, including location, size, and quality.
Here is a summary of the cost of living in Gibraltar: 
Family of four estimated monthly costs: £ 6,400
The single person estimated monthly costs: £ 5,249
Pretty much the prices are the same as in the UK for utilities, such as electricity, water, and internet. Groceries are on the whole roughly as expensive as they are in a city in the UK, although individual items may again cost slightly more or less.
Here is more information about prices in Gibraltar
Bars and restaurants
 
Here is a list of the 10 BEST restaurants
You can enjoy many local restaurants and bars that are offering different kinds of meals, but you should try their traditional dishes. The most popular dish in Gibraltar is Calentita.
Gibraltar is home to some great drinking spots, combining as it does traditional British pubs with Mediterranean-style terraces and smart, neon-lit bars.

History and Culture
 
Read more about Gibraltar's history here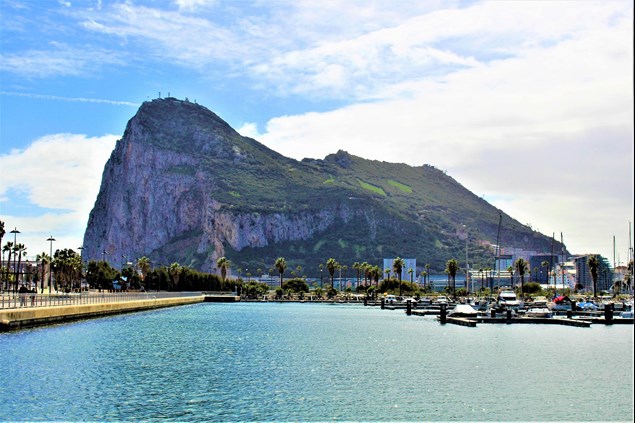 The six square kilometers of the Rock of Gibraltar are steeped in history, from the very beginning around 100,000 years ago when primitive humans and Neanderthals fished the shoreline and inhabited the limestone caves, to visiting Phoenician
The position of Gibraltar guarding the entrance to the Mediterranean is unrivaled and has for many years been fought over by Spain, France, and Britain, all claiming possession.
Nowadays, the Rock is still controlled by the British government. The official language of Gibraltar is English but most people, if not everyone speak Spanish too.
Discover all the historical and cultural places in Gibraltar
Jobs
 
Gibraltar has a number of different industries for serious professionals who are looking to gain ground in their careers while enjoying the peninsula's holiday-like appeal.
Currently, there are about 20,000 people that are employed in Gibraltar which are made up of both locals and foreign workers who would mostly travel from Spain by crossing the border.
You can find various working opportunities in casual places such as shops, restaurants, and bars that are sprawled in the city's commercial hub.
Many people who have come to Gibraltar in search of an online job can easily see that the peninsula offers a number of varying opportunities in several sectors.
If you are considering a career in the world of online gaming, then Gibraltar is the right place where you can find the best type of job.


Check our current vacancies here. If you need help finding a suitable job for you and assisting with the relocation process, contact us now.