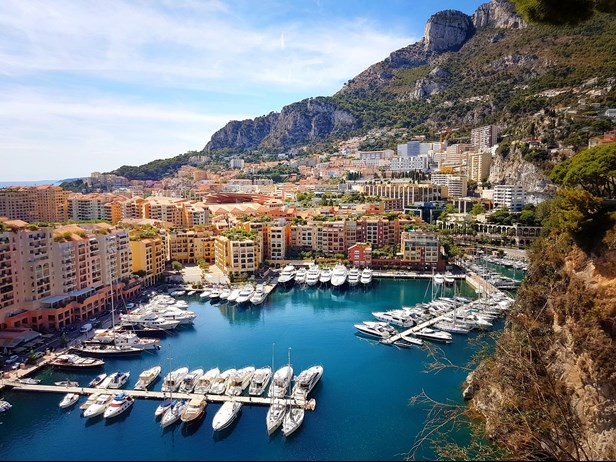 Located along the Mediterranean Sea in the midst of the resort area of the Côte d'Azur (French Riviera), Monaco is surrounded on three sides by France and occupies just under two square kilometers (0.75 sq mile) 

Monaco is the second smallest country in the world and it's a constitutional monarchy.


Climate


Monaco has a hot-summer Mediterranean climate with strong maritime influences, with some resemblances to the oceanic climate and the humid subtropical climate. As a result, it has warm, dry summers and mild, rainy winters. The average number of rain days per year is only 60 and 300 days of sunshine per year await you. The hottest months are July and August, and the coolest is January and February.


Here you can read more about the weather and temperatures

 
Transportation

Monaco offers different ways to get around by public transport, although it's known for its very fancy cars. 
Busses in Monaco offer an excellent service of a modern and clean atmosphere and you can purchase tickets on-board from the driver or at the CAM office tickets, also from a machine at the bus stop. You can pay with a card or in cash. 
Another way is Bateau Bus - it's a bus by sea and it's solar-electric powered.
You can also go with an electric bike for just 1 euro from one station to another.
For a unique view and experience, you should try the public lifts and a helicopter.
Taxis and cars are also available for transportation.
You can see here all the details about transportation
Cost Of Living

Monaco is in the top 1% of the most expensive cities in the world. The average cost of living there is $3749 and it's 63.30% higher than in the United States, but the salary you get is enough to cover all your needs.
Renting an apartment will cost you  an average of 3,500 euros per month
As for the cost of services - they are above average. Internet, communications, utilities, and other services. For example, the average monthly rate of communication and an intern for the telephone will cost 120 euros.

For more information on the costs in Monaco, check this.
Bars And Restaurants

Check out the best places to eat in Monaco.
You can choose from classic French, Mediterranean, to modern and exotic cuisine in Monaco. Get ready for an exceptional culinary journey full of flavors and aromas, because Monaco has a lot to offer. 
After a hard day at work, there is nothing like chilling out with your friends or colleagues and having a drink, and enjoying the beautiful view, so don't forget to check out some of the best bars. 
History and Culture 

Monaco was originally founded in 1215, as a colony of Genoa. The country has been ruled by the House of Grimaldi since 1297. For a short period of time it was under French rule (from 1789 to 1814). In 1911 Monaco became a constitutional government.
In 1918 France offered some limited protection and Monaco agreed with that, this provided that Monaco would be aligned with French policy and economic interests.
In 1993, Monaco became an official member of the United Nations with full voting rights.
The ruler of Monaco now is Prince Albert II, who ascended in April 2005.
Monaco's culture has strong influences from its neighbors, France, Italy, and Spain, but mostly in France, the official language spoken there is French.

You can read all about the history of Monaco here
Jobs


Monaco's economy is one of the most stable in the world. It's one of the smaller territories in Europe, one that has positive political and economic relations with its neighboring nations. 
Tourism mostly drives Monaco's economy and is one of the three leading sectors in the country along with finance and commerce. 
If you don't have a job already, you should look for job opportunities before moving there.

Check our current vacancies here.

If you need help finding a suitable job for you and assisting with the relocation process, contact us now.